I am a die-hard fan of the GTA series, I played every GTA since the first one, one of my favorite GTAs was GTA 2, because of the fun missions...
Sure, the game was FUCKING HARD, but it was still fun! My favorite mission was Hot Dog Homicide just because of how dark it is!
One day, I was on the GTA forums, looking for a guy who also liked GTA 2, and I found one!
We had a little chat, and he e-mailed me a file called GTA2.exe, he said it was a special version of the game, a version that Rockstar Games only gave to a few people back in 1999...
I said Thanks! and downloaded the file, it took one minute, and I soon started playing it...
When I started playing, the graphics looked a little more good and realistic, one thing that I noticed, was that I had all weapons with me! And also $666 dollars...
So I steal a car, I notice there was no music playing, actually, there were no sound effects! I also notice that I was friends with all three gangs already!
So I decide to answer the red Zaibatsu phone, as it was my favorite gang...
But as soon I touch the phone...The game crashes...
But as soon it crashes, I thought I had seen two white eyes and a smile on the screen...
I was about to restart the PC, but then I notice I was on the menu screen! It was playing some kind of reverse theme of the game...
I start playing again, but that's when I notice that I can't move! Suddenly, I notice that I was with the pistol equipped...And then suddenly I hear a pistol shot and I died! Wait, did Claude Speed just shot himself?!
Then, I notice that everything went G-major!
And then... Suddenly I notice some pictures flashing in my screen, it were dead people! They were all with holes in their head and a pistol by them!
I tried to turn off the PC by removing the cable but it didn't work!
I was scared shitless, I punched the computer screen while I was panicking...
I also destroyed the CPU just to make sure...
I still love the GTA series and GTA 2, but now, I only play GTA 2 in my Playstation 1, even if it don't have that guy saying Wasted! and the graphics being ugly, at least it don't have people hacking it with these kind of files...
---
Created by: Jacket Mike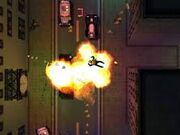 Ad blocker interference detected!
Wikia is a free-to-use site that makes money from advertising. We have a modified experience for viewers using ad blockers

Wikia is not accessible if you've made further modifications. Remove the custom ad blocker rule(s) and the page will load as expected.