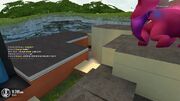 There is a popular mod for Garry's Mod called GMod Tower. It's a virtual world where you can hang out with friends and play minigames and is about to be spun off into a stand alone game called Tower Unite. A video allegedly showing a disturbing easter egg was posted to YouTube. It was initially denounced as a hoax because there was no board there, however, recently, some people on the official GMod Tower forums have posted screenshots proving that the board was there at some point.
Ad blocker interference detected!
Wikia is a free-to-use site that makes money from advertising. We have a modified experience for viewers using ad blockers

Wikia is not accessible if you've made further modifications. Remove the custom ad blocker rule(s) and the page will load as expected.