Pending deletion
---
This page may be subject to deletion by an administrator for the following reason:
A lot of capitalization, punctuation, wording, and story issues.
---
NOTICE: Only administrators and RCaDC are allowed to remove this template directly.
The year was 1967, I was working at NBC enterprises, when I was in my Twenties at the time, dubbing episodes of Astro Boy, (Tetsuwan Atomu in Japan) despite the fact I heard there's 39 episodes never to be aired here, as a matter of fact, I watched some of them including Episode 193.
Me and the team thought it was a good idea to not dub that either due to it's depressing ending, then, a day after me and the team watched it, I got a tape of yet another episode, the tape was unlabeled, no text, just a film in a canister.
the guy who gave it to me said it was episode was simply called "Episode 194" at first, i thought it was a joke, I thought someone actually gave me a Fetish movie from the 40s and claimed it was an Astro Boy episode, but again, I worked with this guy a lot, so I guess it's nothing, maybe the guys at Mushi are making new episodes just for the US.
so, i played the film tape, and what i saw was... well, out out of the ordinary...
the usual intro was not there at all, just a black screen, nothing, i ignored this though, as i got straight into the episode, though what makes this interesting, is that, the show is still in Black and White, while most other shows over here were in color such as Batman, The Green Hornet, Star Trek, and a new version of Dragnet that was about to air, even shows that started in Monochrome such as The Andy Griffith Show, Gomer Pyle, USMC, I Dream of Jeannie, Bewitched, and Gilligan's Island were all switching to color, i guess they had no budget maybe, I don't really know...
The episode starts with Astro, his sister called Uran in Japan, and his big brother no one really talks about, standing near a grave, Uran and The Big brother called Cobalt were in a sad mood, while Astro was in a more Angry look, it then cuts to a grave that had Japanese characters that i knew translate to "Ochanomizu Hakase" which i knew was the Japanese name for Dr. Elefun, how would Dr. Elefun die? I asked myself.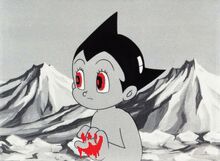 Later, it fades to Astro and his siblings at home, still in his angry face, later, Uran is seen crying in her bed, However, Astro was there too, Astro then all a sudden had a kitchen knife in his hand, Astro then raises his hand holding the knife at Uran, but just as he strikes on her sobbing body, it cuts to black. it then fades to a shot of Uran legs, lying on the floor, indicating that she's dead, then it cuts to Astro, who had red pupils in his eyes and a bloody hand...
The eyes and the blood were the only thing that was in color, very unusual for a black and white series at the time.
it fades to black once more, this time, showing Cobalt crying in front of a black background, there was no crying sounds, nothing, but then, the black background then showed what really disgusted me, it showed footage of a man getting Mutilated and a Lobster, getting crushed by heel. I blocked my eyes since I couldn't stand the rest.
later it cuts to Cobalt lying on the floor, dead, next to Cobalt's body was Astro, indicating that he killed him too, then, it was the baby brother Ti-Chan next...
Astro, still with his red Pupils, took a pillow, and smothered Ti-Chan, I was never more scarred as ever, It then fades yet again to Astro outside of his house, the red eyed Astro met the big mustached guy, and killed him too, this time the blood made more sense since he's a human, Then, he met Inspector Gumshoe, (Tawashi in the original Japanese version) and cut off his nose, Astro then stabbed him, the screams were also not cartoony screams, it was more, realistic per say...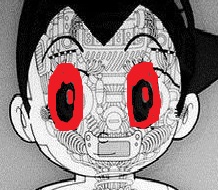 Astro then proceeded to eat Gumshoe's nose like a cannibal, Astro then went to a circus tent, there he met The Great Cacciatore (Hamegg), Astro then got out a realistic gun and Shot Cacciatore in the forehead, Cacciatore was lying dead, with red blood gushing out of his head, it then cut to Astro's cold red eyes...
the eyes look so poorly made, yet unsettling at the same time, it then fades out, with White Japanese text saying "絶望", the tape then ends...
I decided to take the tape and burn it, but I didn't burn it, instead, I just put in in a box, and put it in my attic, never to be seen again...
Epilogue: 50 Years Later
The year is now 2017 at the time of this writing, now in my Sixties, I still live in the house where that traumatizing event took place, I was dusting off my attic, when all a sudden, I found the Canister, still in pristine condition, I already knew what it was, so..., I decided to sell it and find someone who can do something about it, I found luck when a guy who came and says he works at Anime News Network, I sold it to him for No Money, I told the young man...
"Whatever you do, don't watch it"
I gave him the canister, he took it, and went away with no word from his mouth...
Ad blocker interference detected!
Wikia is a free-to-use site that makes money from advertising. We have a modified experience for viewers using ad blockers

Wikia is not accessible if you've made further modifications. Remove the custom ad blocker rule(s) and the page will load as expected.